Training Event Details
Quality Counts San Luis Obispo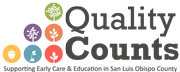 NAEYC: DAP and the 9 Principles of Child Development and Learning
Total Hours:
2.00 Clock Hours
Event Type:
Web-based Self-Paced/Ongoing
Language of Instruction:
English
Understanding child development is essential to plan, support, and guide your interactions with children. Hear from thought leader Dr. Iheoma Iruka as she shares her perspective on taking an equity-focused approach to understand and support child development.

https://www.naeyc.org/resources/pd/online-learning/nine-principles-child-development
This is an
training for .
Prior knowledge or experience needed:
Early learning standards/foundations:
Toddler Care (19 - 36 Months), Preschool (3 - 5 Years)
Is this a Gateways training?
No
$60 fee funded by SLO Quality Counts. Email info@sloqualitycounts.org to request funding for cost of this self-paced training. Only QC participants in SLO County qualify for this offer.