Training Event Details
Marin County Office of Education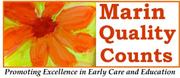 2022 Spring Early Learning Summit
Inital Date/Time:
04/30/2022 / 08:00 AM - 04/30/2022 / 04:00 PM,
Zoom.us
Total Hours:
7.00 Clock Hours
Event Type:
Web-based Time Specific
Language of Instruction:
English
Constructing Personal and Social Identity: "The Lifelong Journey"
Web-based Time Specific 04/30/2022 / 08:00 AM - 04/30/2022 / 04:00 PM,
Zoom.us
This is an
training for .
Prior knowledge or experience needed:
Early learning standards/foundations:
Adults in ECE, Infant Care (Birth - 18 Months), Toddler Care (19 - 36 Months), Preschool (3 - 5 Years), School Age/Elementary (Kindergarten - 6th grade), Transitional Kindergarten (4 - 5 Years), After-School/Out-of-School Time
Is this a Gateways training?
No
A zoom link will be emailed out prior to the event.



Materials for the event will be available to pick up at the Marin County Office of Education at 1111 Las Gallinas Ave. San Rafael. An email will be sent when materials are ready. Please contact Leah Catching lcatching@marinschools.org or at 415-499-5827 to schedule your pick up time.



IF YOU PLAN TO REGISTER FOR 0.5 ECE ACADEMIC UNITS THEN READ BELOW AND DO NOT REGISTER ON THE WORKFORCE REGISTRY.
5 academic unit of credit in Early Childhood Education is available through the College of
Marin for participation in this Early Learning Summit. To earn the academic credit, you must
register at COM for ECE 261A, B C, or D (CRN83871, 82872, 83025, or 83026). First time
Sumit registrants should choose 261A. If you have earned credit for an early learning
summit in the past, you may need to register for a higher letter. It will become clear to you in
the registration process which specific CRN is best for you. All are enrollment in the same
event so you will register for only one. All COM students who need units register through COM.